Store
Practical Archivist Store
How to Organize, Preserve, and Scan Your Photos…and how to write down the stories behind them. An entire distance learning home study course, pre-recorded and burned to a CD so it's ready when you are. Suck it into iTunes and add it to your iPod or your phone.
.
You get 4 hours of recorded class instruction plus 6 hours of archived web chats and recorded phone discussions…for only $25. That's a fraction of the cost of the live class. Yep, this is just about everything I want you to know about how to organize, preserve and share your family photographs all bundled into one digital kit.
Click here to learn more about what's included and to purchase your very own CD copy.

You know what I call those magnetic albums that were popular in the 70s and 80s?
.
Lucky for you, I created an Easy Peasy way to rescue your photos using a "microspatula"
Click here to learn specific details about what's in the kit and how it can help you rescue these at-risk photos. Follow that same link to place your order.
*Not available again until January 2015.
Is 2015 the year you finally toss the clutter in your photo collection so it will be easier and less expensive to treat the keepers right?  Purchase one of my De-Clutter kits and it can be.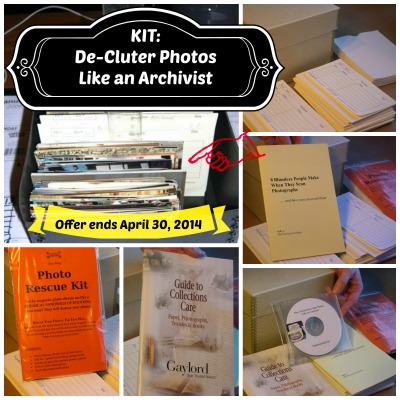 This kit includes archival storage for up to 1,000 prints sized 4×6 and smaller; white gloves, two pencils and a microspatula; over 6 hours of workshop content about how to de-clutter, organize, preserve your photos — both analog and digitally, how to safely scan your vintage photo treasures; plus an easy-peasy writing method for capturing the stories behind your photos. "The shortest pencil is better than the longest memory."
This kit includes both a copy of Joy of Organizing Photos CD and the Photo Rescue Kit which are described below.
Here's a short video I created so you can see everything that comes in your kit:
Click here to learn more about all the tools, know-how and live support I've crammed into my How to De-Clutter Photos Like an Archivist kit.

Why are some Practical Archivist kits available only part of the year?



The only way I can keep prices as low as they are is to purchase from archival suppliers in large quantities. I don't have a warehouse, so I'm not in a position to order ahead in bulk. Another factor is they way assembling and shipping giant boxes full of empty boxes takes over our house (and our lives).
It's not hard to see why we keep it to one month per year only for the big kits. That month is October and sometimes into November.
 
A note about returns.
I work very hard to describe my products accurately, so there shouldn't be any confusion about what you are ordering. Having said that, I have a generous return policy and will replace damaged items at no additional cost to you. Just ask half of the first-ever customers who purchased a FASK. Ouch, yes, that's a true story. Now I personally check every metal edge of every box before I ship it out the door.